South Africa & Mozambique
Who: Couples and Honeymoons
From $5,195pp
Sand and Safari in South Africa & Mozambique
Re-work the classic South African safari by visiting the Waterberg Mountains, one of the country's lesser known, but no less brilliant, safari destinations. Then mix it up even more by swapping the Cape Town city beaches for Mozambique's tropical paradise coastline instead. And all this in just 11 days.
Itinerary at a Glance:
Discover the unique mountain terrain of the Waterberg Mountains on safari in South Africa
Keep your eyes peeled for Big Five game
Spend a day aboard a traditional dhow sailing boat, stopping to snorkel in the crystal clear waters of the Bazaruto Archipelago
Why Book with Original Travel?
Just a few of the extra touches that come as standard on an Original Travel holiday...
See More
All of the holidays we create are completely tailor-made to you
This sample itinerary is intended to give you a flavour of what we can do
Day 1:

Waterberg Mountains
After landing in Johannesburg and clearing customs, you'll be met by a private transfer driver for the four-hour drive into the heart of the Waterberg Mountains in Limpopo Province, where your safari adventure begins.
An ancient escarpment rising dramatically from the surrounding plains, the Waterberg Mountains region is a designated UNESCO Biosphere Reserve and a stunning wilderness area, with the mountains and ravines adding an extra dimension to the beautiful bush scenery. Enjoy the views as you drive to your lodge and then settle in with an evening sundowner.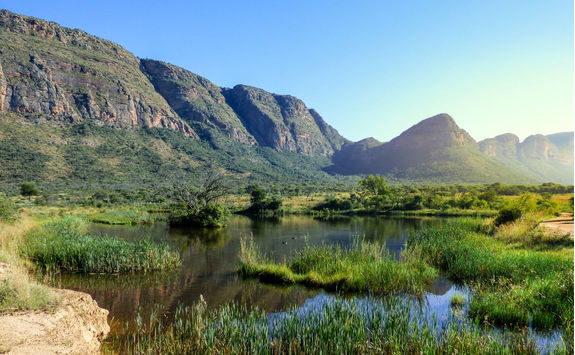 The next two days will be spent on safari from your lodge. You'll explore the beautiful Marakele National Park in the heart of the Waterberg Mountains in search of animals aplenty, including the fabled 'Big Five' of lions, leopards, elephants, rhinos and buffaloes.
Choose to go out on the daily morning and evening game drives (complete with morning tea or sundowners on the way back to camp), or bush walks, water safaris on the dam for sunrise or sunset, birding experiences and astronomy focused night sky safaris.
In between the active wildlife watching you'll also want to spend lazy afternoons by the pool or wandering through the lodge grounds to find the most stunning viewing spots. Whichever lodge you're based at, a special bush dinner or breakfast is also highly recommended as it gives you opportunity to really take in the remote and unspoilt landscapes.
After one last morning game drive - work with your guide to tick off any animals missing from your list - and a leisurely lunch, say goodbye to the team at your lodge and then make your way back to Johannesburg.
As with on the way the drive is around four hours so you'll arrive just in time for dinner. For the sake of convenience tomorrow we suggest staying near to the airport, however we can book a more centrally located city hotel if you prefer.
You've had your fill of bush adventures, now it's time for some on the beach. Get up nice and early for your transfer to Johannesburg Airport, then check in and board the flight to Vilanculos Airport in Mozambique.
Once you've landed a member of our team will be waiting to greet you and transfer you just 15 minutes to your beach base.
Spend the rest of today settling in and enjoying the views across the Bazaruto Archipelago from the beach. When the sun starts to set, sip on sundowners before indulging in a fresh seafood dinner.
Day 6:

Bazaruto Archipelago
Get your stay in Mozambique off with a bang today as you spend a full day out on a dhow (traditional wooden sailing boat) exploring the beautiful Bazaruto Archipelago.
Head out from the mainland to spend the day enjoying views of the turquoise waters from on deck, stopping at various points to go snorkelling, and keeping a close eye out for dolphin or, if you are really lucky, a dugong. Your captain will steer you towards Magarugue Island, where you can moor up to enjoy a freshly cooked lunch on deck and then go exploring. The island is small enough to walk around in less than two hours and the shallow, crystal clear waters of its sheltered bays are ideal for snorkelling.
After a few hours exploring, head back to the mainland for dinner.
Days 7-10:

Bahia Beach Life
The next four days are yours to continue living a life of total barefoot luxury.
Intersperse hours of lazy relaxation in the sun (either by the pool or on the beach) with a little activity. More sporty types can test their balance with a spot of paddle boarding while culture vultures might like to take a guided tour of the area, including visits to the market, church and orphanage.
Each night, as the light fades, sip cocktails on the central deck and indulge in hearty dinners inside the thatched restaurant, reminiscing over a day of sun and laughter.
Additional Activities
Try your hand at kitesurfing with a lesson from one of the expert instructors
Go riding along the sandy beach
Say goodbye to the beach this morning as you make your way back to Vilanculos Airport via a short private transfer.
Here you can catch a flight back to Johannesburg (which will take less than two hours) and then check in for your international flight home.
All of the holidays we create are completely tailor-made to you
This sample itinerary is intended to give you a flavour of what we can do
A Rough Idea of Price
While all of our holidays are completely tailor-made and prices will vary based on things like time of year and level of accommodation, we want to give you as good an idea of how much this itinerary will cost. All of the costs on our sample itineraries exclude international flights, however, ask us if you would like us to arrange your flights at our preferred rates. The below prices are based on two people sharing.
This Itinerary
If you would like to book the exact itinerary mentioned above, during mid-season and staying in our preferred room category at our preferred hotels. Ask us if you would also like us to arrange your international flights.
Bare Necessities
If you would like to pare back the above itinerary by travelling at non-peak times, staying in a standard room and removing some or all of the guided activities.
Bells & Whistles
If you are looking for something extra special and would like to stay in top room categories at some of the most luxurious hotels we work with, and add more activities and guiding.
Isabel, Matt and Charlotte C are our experts for this itinerary and as seasoned travellers they have the inside track on the most memorable adventures.