Havana and Tulum
Who: Couples and Solo Travellers
From $2,320pp
Spend nine days in two of our favourite countries - Cuba and Mexico - for a combo of culture and beach. After a few days digging beneath the (beautifully restored) surface in the Cuban capital Havana, head to Mexico's Yucatan Peninsula and enjoy some beach time.
Itinerary at a Glance:
Get under the skin of Cuba - arguably the Caribbean's most fascinating country - with expert local guides
Explore the brilliance of Cuban ballet and other dance
Enjoy the wonderfully relaxing beaches in Mexico's magical Tulum
Why Book with Original Travel?
Just a few of the extra touches that come as standard on an Original Travel holiday...
See More
All of the holidays we create are completely tailor-made to you
This sample itinerary is intended to give you a flavour of what we can do
Once you have landed in Havana and collected your bags, one of our team on the ground will be waiting to transfer you to your charming casa particular (guesthouse) hotel.
This morning you will meet your private guide at your casa particular for a visit to Habana Vieja, the Cuban capital's Old Town.
Here, you will get to grips with the city's beginnings in 1519 and take in the grand palaces, colonnaded squares and cobbled streets of colonial Cuba. The neighbourhood resembles something of an open-air museum, with some of Cuba's most beautiful monuments, and you will also visit some of its indoor museums - Museo de la Ciudad and the city's fort are our favourites.
Our man in Havana knows everyone, including those in the know at Havana's ballet schools.
Spend today with him, learning about Cuban dance, from salsa and rumba to classical ballet. Spend the afternoon with a ballet critic from a national newspaper, watching as the next generation of Cuban dancers are drilled in fouettés and grand jetes. Round off the day with an evening at the Cuban National Ballet.
This afternoon head to the far west of Havana and visit Fusterlandia, the brainchild of Cuban artist Jose Fuster.
Since 1975, the seaside Jaimanitas neighbourhood has been transformed into a Gaudi-esque open air museum, with whimsical mosaics adorning doctor's surgeries, bus stops and people's homes.
If Jose is at home you can meet him and chat about this inspirational and originally accidental regeneration project. Then head to the studio of Kadir Lopes Nieves, a Cuban artist who revives the neon signs of Old Havana.
Finish off your art-themed day with dinner at El Cocinero, a converted industrial space in the Vedado district, and dance the night away in the building's downstairs space: Fabrica De Arte Cubano, a multi-disciplinary gallery, theatre and concert venue.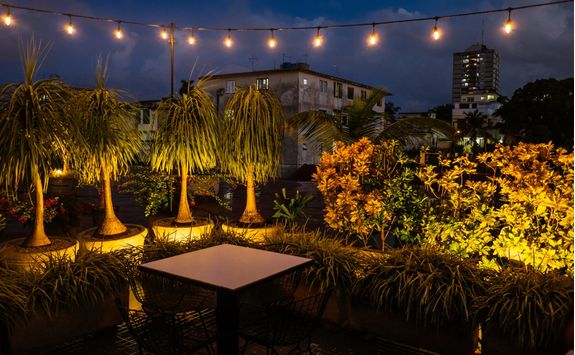 Day 5:

International Flight
After breakfast this morning you will be privately transferred to the airport in good time for your early-afternoon flight to Mexico, which will land in Cancun an hour-and-a-half later.
Once you have cleared customs and collected your bags, one of our team on the ground will privately transfer you to your Tulum hotel, roughly an hour-and-a-half down the coast.
After a culture packed time in Havana, spend the next few days relaxing on Tulum's powdery soft beaches.
The area was once a retreat for the Mayan elites, and it isn't difficult to see why - beaches which stretch on for miles, sea the colour of a Bombay Sapphire bottle and spectacular scenery. Spending three days engrossed in a paperback on the beach would be completely understandable, but we are on hand to arrange all manner of adventures - from the cultural to the submarine.
Additional Activities
Private sunrise tour of Chichen Itza
Snorkelling/diving in cenotes (limestone sinkholes)
Sailing excursions
After a day relaxing on the beach - we will arrange a late check-out for you if needed - you will be privately transferred an hour-and-a-half back to Cancun in good time for your flight back home.
All of the holidays we create are completely tailor-made to you
This sample itinerary is intended to give you a flavour of what we can do
A Rough Idea of Price
While all of our holidays are completely tailor-made and prices will vary based on things like time of year and level of accommodation, we want to give you as good an idea of how much this itinerary will cost. All of the costs on our sample itineraries exclude international flights, however, ask us if you would like us to arrange your flights at our preferred rates. The below prices are based on two people sharing.
This Itinerary
If you would like to book the exact itinerary mentioned above, during mid-season and staying in our preferred room category at our preferred hotels. Ask us if you would also like us to arrange your international flights.
Bare Necessities
If you would like to pare back the above itinerary by travelling at non-peak times, staying in a standard room and removing some or all of the guided activities.
Bells & Whistles
If you are looking for something extra special and would like to stay in top room categories at some of the most luxurious hotels we work with, and add more activities and guiding.
Ollie is our expert for this itinerary and, as a seasoned traveller, has the inside track on the most memorable adventures.